The PocketEvo® magna is the largest model in the PocketEvo® series. However, the housing is designed so that even this large transmitter can be operated with one hand.
modular design
compact, robust special housing
7-segment display for data feedback
Radiokey
SMP Technology
Communications
Single channel FSK
Safety
Multi bit address code with over 1 million combinations
Frequency band
433.05 – 434.79 MHz
868 – 868.975 MHz
915 – 916.650 MHz (NA)
Others availabe upon request
RF power
< or = 10 mW
< or = 20 mW (NA)
Operating range
≤ 100 m
Antenna
Internal
Command response time
Approx. 15/60 ms typical
Low battery indication
Approximately 15 minutes
Operating time
Up to 30 hours continuous (magna)
6-7 hours typical (magna)
Auto shutdown
Configurable via NBB programming tools
| | |
| --- | --- |
| Operating temperature range | -20 °C to +70 °C |
| Weight: | 0.7 Kg (without battery) |
| LCD display | Programmable backlit 3.5" color graphic (magna LCD) |
| | |
| --- | --- |
| IP-Protection Class | IP65 |
| CE certification | Yes |
| FCC compliance | Part 15 |
| | |
| --- | --- |
| Power supply | 2 x AA LR6 disposable alkaline or rechargeable NiMH cells |
| Optional internal charger | AA LR6 NiMH battery charger connection |
| Optional power supply | 2,200 mAh, 3.6 VDC Li-Ion rechargeable battery pack |
| Battery pack charging time | Approximately 2 hour |
| Battery pack specifications | 60 x 37,5 x 16,5 mm at 50 g |
| Battery pack charger power supply | 110-230 VAC or 12-24 VDC |
| Charger AC power plug options | EU, USA, JP, GB, AU |
Data feedback
– Reach
– Transmitting signal strength
– Status of the machine function
– Customer-specific feedback information and logos on request
LBT frequency search
When switching on or switching to another frequency, the system checks whether the frequency channel used is occupied by other transmitters. If this is the case, the next frequency channel is checked until it is ensured that the transmitter can operate without interference. LBT is the abbreviation for 'Listen before Talk'.
2 x AA Mignon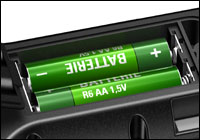 Battery:
Ni-MH / 1 900 mAH / 1.2 V
Battery: 1.5 V
Operating time: approx. 40 hours
SMP buttons
optionally one-, two- or three-stage
SMP technology: Easy key exchange without opening the housing, no protective measures against contamination necessary.
Rotary switches
Max. two rotary switches and / or optionally also potentiometers etc.
Side buttons
left and right one additional button each, for free use
Neck strap for PocketEvo®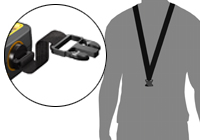 optional
Shoulder strap for PocketEvo®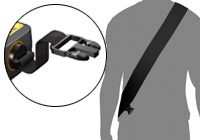 optional
Belly strap for PocketEvo®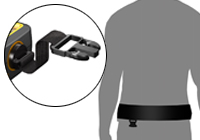 optional
Hand strap for PocketEvo®
Description
The largest model in the new PocketEvo® series has 10 buttons, which can be 1-, 2- or 3-step or stepless, depending on customer requirements. In addition, the integration of various additional operating elements such as up to two rotary switches and lateral buttons is possible without any problems. This makes the PocketEvo® magna suitable for even the most complex applications.
Thanks to the patented SMP technology, all keys can be replaced by operators themselves in just a few minutes. Without special tools, each button can be unscrewed individually and a new one inserted. The robust special housing remains closed at all times, so that no protective measures against soiling have to be taken.
Downtimes of your system are additionally reduced to a minimum by the integrated CDC key. Because if the transmitter needs to be replaced, the new device can be connected to the receiver and put into operation in just a few minutes. The CDC key is removed from the old device and inserted into the new one.
For optimum protection against dirt and impact, a special housing was developed for the PocketEvo®. The integrated, all-round protective rubber coating in conjunction with the glass fibre reinforced plastic core ensures that all electronic components can withstand extreme external mechanical influences. This means that the PocketEvo® can be used in particularly harsh environments without any problems.
The jury of the Industry Prize was also convinced by the radio remote control, so that they awarded the PocketEvo® the "Industry Prize 2017". The prize is awarded to particularly progressive industrial products that have a high economic, technological and ecological benefit. The PocketEvo® was awarded the "BEST OF" rating.
Compact, handy and easy to use, the PocketEvo® button transmitter allows you to work in complete safety conditions without reducing the effectiveness of machine operation.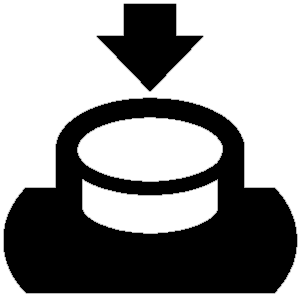 SMP
The Surface Mounted Push-Buttons (SMP) are form-fit integrated into the PocketEvo® series housings. In the event of service, the operator can easily replace a broken button himself on site. The housing does not have to be opened for this purpose, so no protective measures against soiling need to be taken. [More info]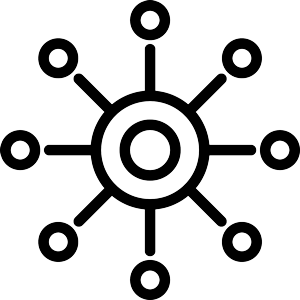 Multi-user system
The multi-user system enables radio communication between several transmitters and several receivers. Each transmitter can be optionally operated with several receivers at a workplace and / or vice versa. Provided that this connection is not otherwise used at this moment.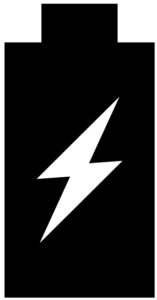 NBB battery system
Nickel metal hydride batteries (NiMH) have a high energy density. The contacts have a self-cleaning design. The NBB battery pack is charged with a high charge current with a NBB charger. This quick charge is thermally controlled to optimize recharging and prevent overcharging.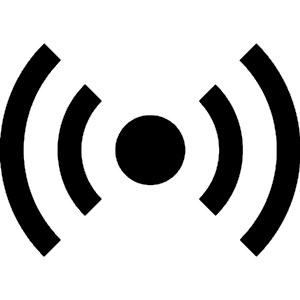 Radiokey
The safety risk is significantly reduced using the RADIOKEY. Here a defined range is available for the crane or machine operator in which the remote control system can be activated. As a result, unwitting or inadvertent activation of the transmitter is excluded and the receiver is not sent any control information.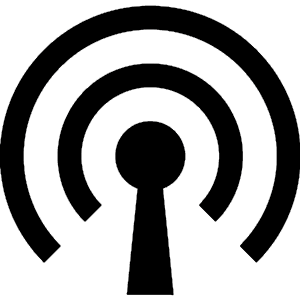 LBT frequency search
When switching on or when switching the frequency, a check is carried out to determine whether the used frequency channel is reserved by another transmitter. If this is the case, the next frequency channel is checked until it is ensured that the transmitter can operate without disturbance. LBT is shortcut for Listen before Talk.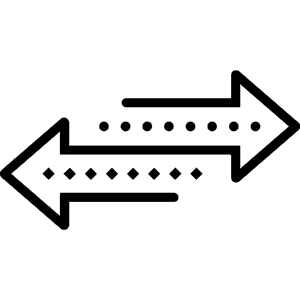 Data reporting
Visual representation of Operating Range, Transmission signal strength, Status of the machine function and Customer-specific information as well as logos supplemented by acoustic feedback (buzzer can be activated).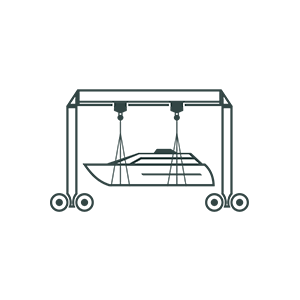 Boat lifter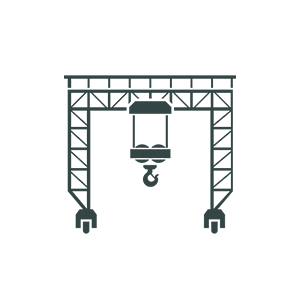 Bridge & gantry cranes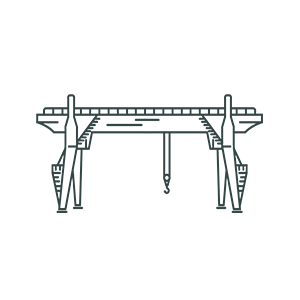 Container hoists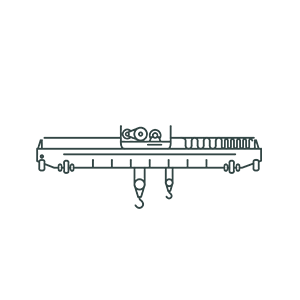 Indoor & overhead cranes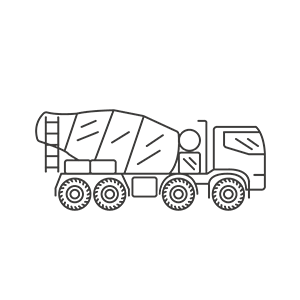 Mixer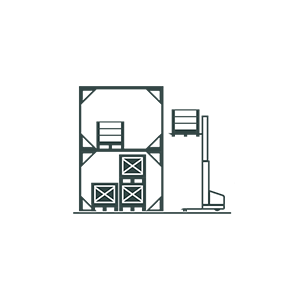 Storage systems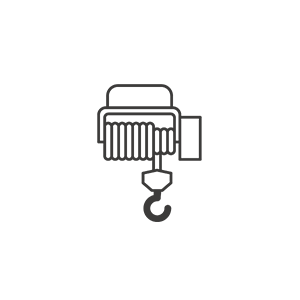 Winches / cables